Build and measure competitive success with IoT in Supply Chain. Enterprises are disrupting the transportation and logistics of cargoes with data and insights that help make decisions, improve operational performance, and increase cost savings.
Supply chain management and operations encompass many aspects of communication, logistics, storage, and shipping of goods from many locations and through different modes of transportation.
The supply chain is a critical area of businesses, as it is a process where many third-party logistics (3PL) providers participate during a shipment process, managing moving parts and paperwork.
Supply Chain Digitization
The supply chain digitization transformed manual processes and paperwork handling into digital processes that speed up transactions and eliminate human errors. The process improvements also unlocked employees' creativity and transformed their roles into analytical, monitoring, and supervisory, while boosting customer service excellency.
IoT consists of objects or goods, vehicles, equipment, and other assets connected to the internet that create data that must be collected, analyzed, and stored. Things or devices have embedded chips, sensors, actuators, or modules that require a software program to connect and communicate to perform actions.
What is IoT in Supply Chain?
IoT supply chain integrates IoT technologies into supply chain activities and other technologies to solve challenges, improve operational performance, and become more competitive.
Enterprises' most critical logistics challenges are cost-reduction and visibility of goods and data. Additional challenges in logistics are capacity of space, labor shortage, data management, demand forecasting, and sustainability.
Several technologies are helping to accelerate the speed and efficiency of logistics operations and playing a key role in optimizing processes. This paper will explore aspects related to IoT applications in supply chain cases.
Due to the complexities of the logistics functions and implementation of IoT technologies, many of these IoT supply chain solutions are offered by 3PL providers who collaborate with customers as extensions of their operations—as partners who are continuously adapting their value-added services.
Logistics providers are transforming into technology-centered organizations or integrated partners that operate under a service-driven business model that includes cloud solutions in their service packages.
Many clients are interested in developing a proprietary and unique IoT solution that integrates data from all sources. Also, they want solutions agnostic of technologies, carriers, 3PL providers, and networks, so they can evolve with their markets and adapt quickly to respond to customers' demands.
Key Digital Supply Chain Technologies in 2022
Artificial Intelligence/Machine Learning
Robotic Process Automation
Internet of Things (IoT)—IoT Supply Chain
Blockchain Networks—Distributed Ledger
Big Data Management
IoT for Supply Chain Solutions
IoT supply chain solutions are being implemented to improve many processes, such as order processing, warehouse operations, shipment routing, scheduling, transportation operations, systems, technologies, etc.
IoT creates valuable data that integrates with warehouse management systems (WMS), transportation management systems (TMS), fleet systems, ERP, other enterprise systems, and network partners.
IoT Supply Chain — Asset Management
IoT in the supply chain can be applied in many ways for unique contexts. In general, IoT increases the level of automation to create efficiencies in fulfilling orders, prioritizing the visualization of data and asset location—a critical aspect of smart logistics.
IoT-Based Warehouse Management System
Consumers are demanding faster fulfillment that requires companies to optimize their inventories of products as they move through the warehouse.
Material Flow Automation
Warehouses are becoming more efficient in handling materials and inventories by adopting autonomous mobile robots (AMRs), automated forklifts, storage pickers, palletizers, automated handling, and wearables to operate warehouses and cut operating expenses with a quick return on investment.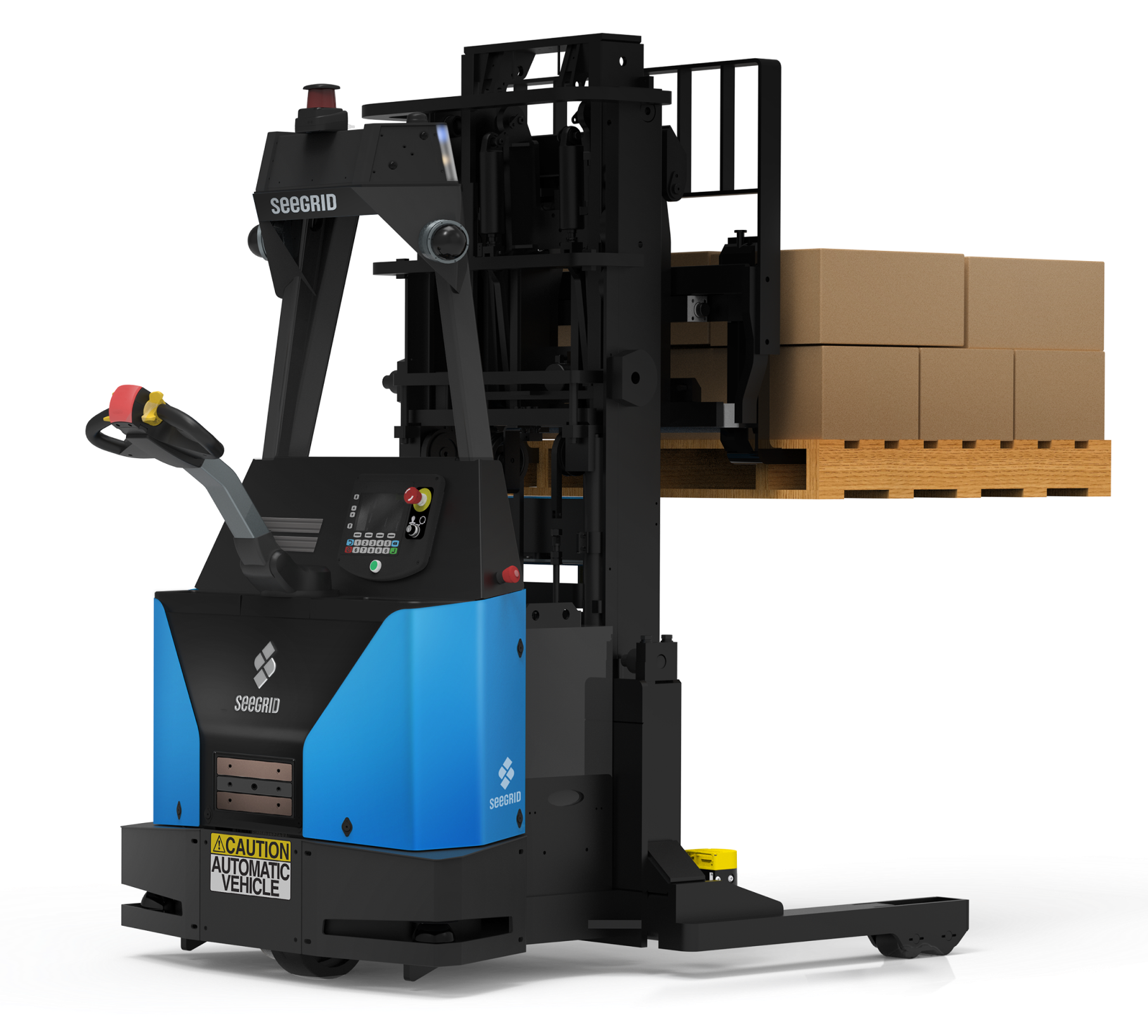 Image: Seegrid Palion™ Lift AMR from https://seegrid.com/autonomous-mobile-robots/
IoT in supply chain helps companies automate and reduce costs and reliance on labor. For example, material handling automation for dynamic facilities starts by automating the hard labor and monotonous warehouse tasks.
Robotics helps to navigate the fluctuations of demand, as warehouses can benefit from Robots-as-a-Service (RaaS) operating expense models.
Monitoring Facilities
Sensors are placed across warehouses to detect temperature, humidity, flood, smoke/fire, electric outages, etc. These are connected to IoT remote monitoring systems that generate events that trigger automatic alerts and notifications when detecting changes.
Asset Tracking and Inventory Management
Mesh network technologies are leveraged in warehouses and facilities for real-time asset tracking.
IoT helps to provide visibility of order tracking information and real-time stock availability inside warehouses. IoT sensors on shelves (smart shelves), storage bins, and other locations in the warehouse transmit inventory information for monitoring purposes. In addition, RFID tags on physical goods help keep track of storage and distribution. Integrating IoT data into ERP systems is a key aspect of IoT for inventory management.
IoT in Transportation (Real-Time Shipment Tracking)
IoT in transportation is experiencing the highest demand for services due to the reconfiguration of supply chain networks brought by reshoring (return of manufacturing back to the US), increase of last-mile deliveries, changes in supply/demand, or supply chain disruptions.
Real-time location tracking (live freight status) and detection of environmental issues help transportation services become more efficient and optimized. An automated tracking system helps manage freight, reduce events, or prevent disruptions.
Cargoes' conditions are monitored from the warehouse to last-mile delivery. For example, having sensors inside trucks that measure temperature, humidity, and pressure helps logistics operators make adjustments during the transportation process.
IoT in transportation is about accessing data of shipments, trucks, routes, drivers, and other aspects, as well as managing the process from the warehouse to its final destination.
There are many details in the process, including identifying shipping options, modes of transportation, route optimization, etc. For example, trucks can be rerouted when roads are congested. Systems can create alternative solutions and mitigate risks.
Optimizing the last-mile delivery stage offers precise estimated delivery times and improves driver productivity and savings.
IoT Asset Tracking Communication
IoT asset tracking works with devices equipped with sensors that communicate through cellphone SIM cards using LTE, 3G, and 5G, as well as Wi-Fi, Bluetooth, GPS, RFID, and location-based services provided by carriers. Other technologies used for IoT asset tracking are mesh networks, geofencing, and beacons.
IoT in Transportation Solutions
IoT development with Krasamo can help build a tailored solution for your specific use case. Leverage our more than 12 years of experience in creating IoT solutions. We can integrate your IoT supply chain software with third-party tools and speed up your ROI.
IoT enables predictive maintenance of warehouses, trucks, and equipment to avoid failure.
IoT supply chain solutions leverage data of IoT assets to help predict logistics operations from planning to execution. An intelligent solution optimizing the process can also predict variables, peak times, freight rates, warehouse space, handling efficiency, etc.
Sustainability of IoT Supply Chain
IoT uses sensors and location-generated data that enables the sourcing of providers around sustainability variables, helping to comply with environmental regulations, emissions, energy efficiency, power and water usage, and green initiatives to improve sustainability.
IoT enables the optimal routing of fleets, reduces the distances traveled by trucks, optimizes the number of vehicles operating, and monitors their CO2 output.
Krasamo IoT App Development Services for Supply Chain
Custom software for specific IoT use cases
Mobile and web development of IoT platform
Integration with partner network solutions
Data pipelines, machine learning, and cloud computing