Table of Content
Introduction
I need to confess that I have a not-so-good habit of spending many hours a day on my cell phone. I like navigating on social networks, reading topics of interest, or looking for new apps that may be useful. The rest of the time, well, I also love playing games on my cell phone, especially board games adapted to mobile applications.
While checking my Facebook feed some years ago, I saw that one of my design professors at university had highly recommended the mobile game Monument Valley. My teacher regularly offered reviews on series, movies, books, etc., but since I had never seen a game recommendation from him, I assumed that this game must be exceptional—so I searched for it in the App Store, bought it, and started playing it.
I played all the levels in a single day. And when it ended, I definitely had the feeling of wanting more. It seems obvious for me to say that I adored the game. I was amazed by the level of intelligence and detail in each scene, and that is why I'm writing this post—to pay tribute to a game that the years have not passed over.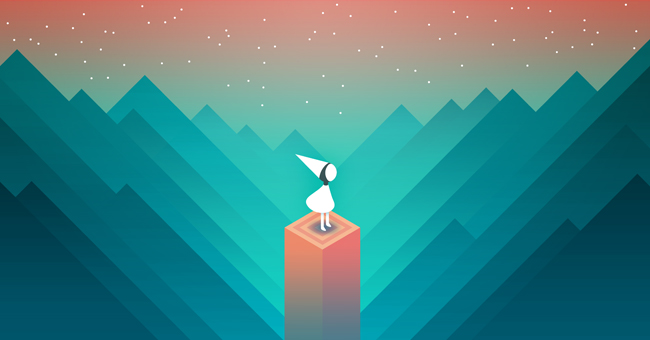 About Monument Valley
Monument Valley is a game created by Ustwo Games, a company currently based in London, UK. Monument Valley became available in 2014 for iOS and Android devices and in 2015 for Windows phones.
After the phenomenal reception of Chapter 1, with more than 2.4 million downloads, Ustwo Games released an expansion to the game called Forgotten Shores. Later, in 2017, Monument Valley Chapter 2 arrived in stores, and in July 2019, Ustwo Games announced they had begun working on Monument Valley Chapter 3.
Monument Valley Chapter 1 won multiple awards worldwide, including Apple's Game of the Year and Design Award in 2014. The game has inspired various fan art pieces as well—such as 3D modelings and illustrations, for example—some of which you can find shared on the artists' social media sites.
If you are a big fan of the game as I am, you can purchase Monument Valley I and II merchandise on Ustwo's website. I promise that someday I will have my Ida, Crow, and Totem plushes.
The hype for this game went so high that in 2018 Ustwo Games announced via Twitter and Facebook that Monument Valley was going to become a movie, in collaboration with Paramount Pictures. Sadly, the movie's release date has not been announced yet—I seriously cannot wait for this movie to be ready!
Story
The game is based on visiting different scenes of monuments and ruins along with Princess Ida. We guide this tender and mysterious character through mazes full of optical illusions, color, and movement.
Each scene has a more significant challenge than the previous one. The optical illusions and the complexity of the mazes increase as we progress through each level.
The story we learn through Ida's eyes leaves much to our imagination. Our minds begin to fly and think about the world in which Ida now travels. We think of each monument's scenarios and possible history and how each one might have been before it was abandoned. We consider what the reasons could have been for its fall as well as many other questions that arise while playing.
These questions about Ida and the monuments' stories may or may not be answered by the movie. And to be honest, if they are left unanswered, I'll still be happy, because I can leave them to my imagination.
Design
Where to start? Monument Valley is a game designed for almost any age. In the App Store, it rates for +4 years old. It's a puzzle game that invites players to use their mathematical and spatial reasoning skills while solving scenes to guide Ida through monuments built with optical illusions.
The game design required a very skilled view of geometry, plans, and perspectives to make the optical illusions possible and adaptable.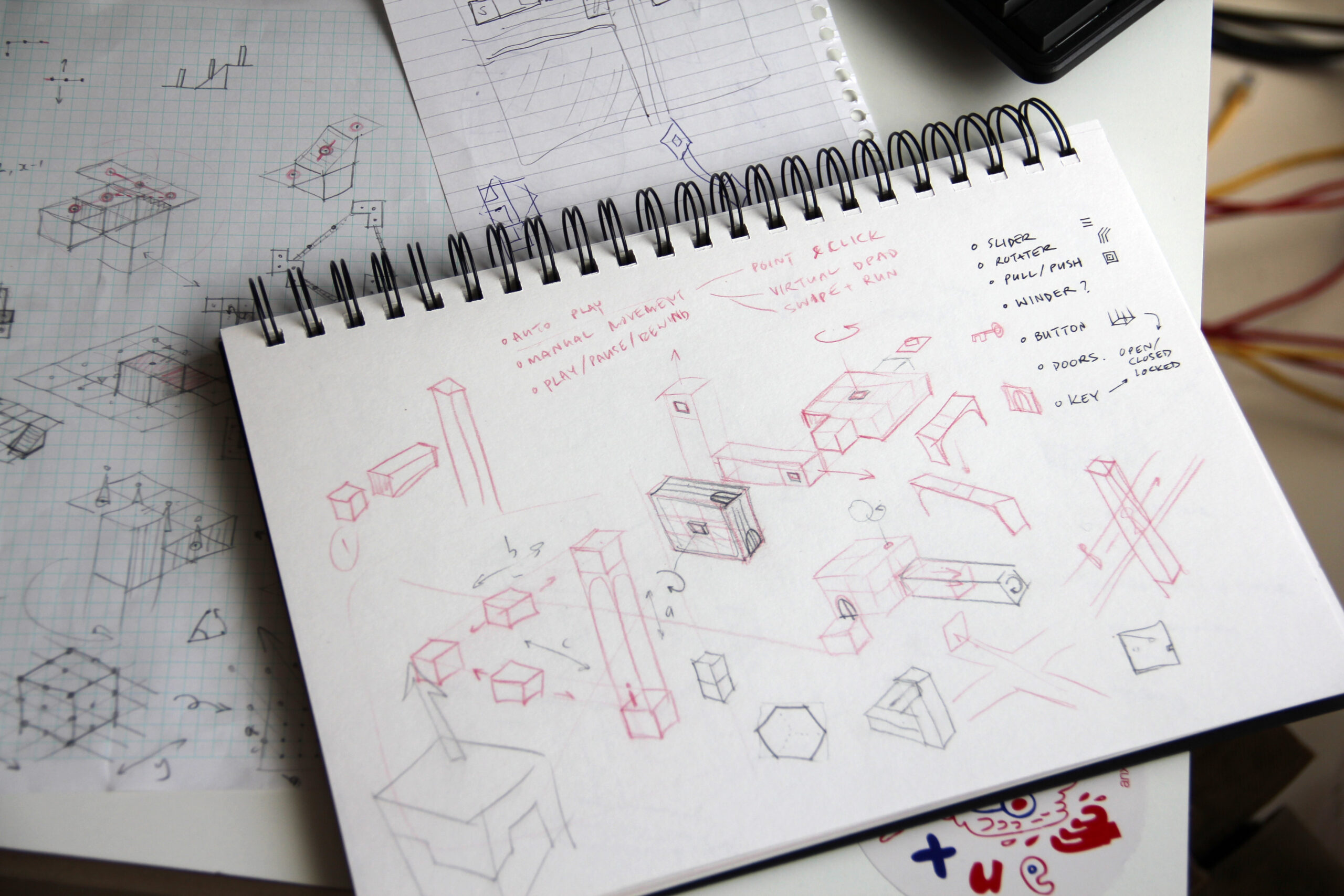 From a graphic design style point of view, Ustwo mentions in their press release that the art of M.C. Escher and Japanese prints inspired the game. In 2018, David Fernández Huerta, art director on Monument Valley 2, shared a note from the Milanote blog which explained the visual inspirations for some of the game's scenes. From abstract works of art to the illusions of M.C. Escher to Nicky Minaj's "Super Bass" video, the Monument Valley team knew how to correctly identify the inspirations and adapt them to scenes with monuments and labyrinths
Even after being released to the public six years ago, Monument Valley seems unaffected by time. Its minimalist illustration graphics and vibrant and attractive color palette make us continue to love and play the game in the same way we did six years ago. If we ran a design trend test in 2020 against the Monument Valley game, we would find that the game would meet several of the current trends, like the use of simple and straightforward illustrations, micro-interactions, 3D design, compelling storytelling, etc.
Each level of Monument Valley is a piece of art in itself. It seems we navigate in a tender dream; yet, on the other hand, it's surreal and mysterious. The game's color palette and gradients tend to be delicate and vibrant, but they also match each monument we visit as well as the story's point. There will be times when the color palette turns dark, even sad or a little scary.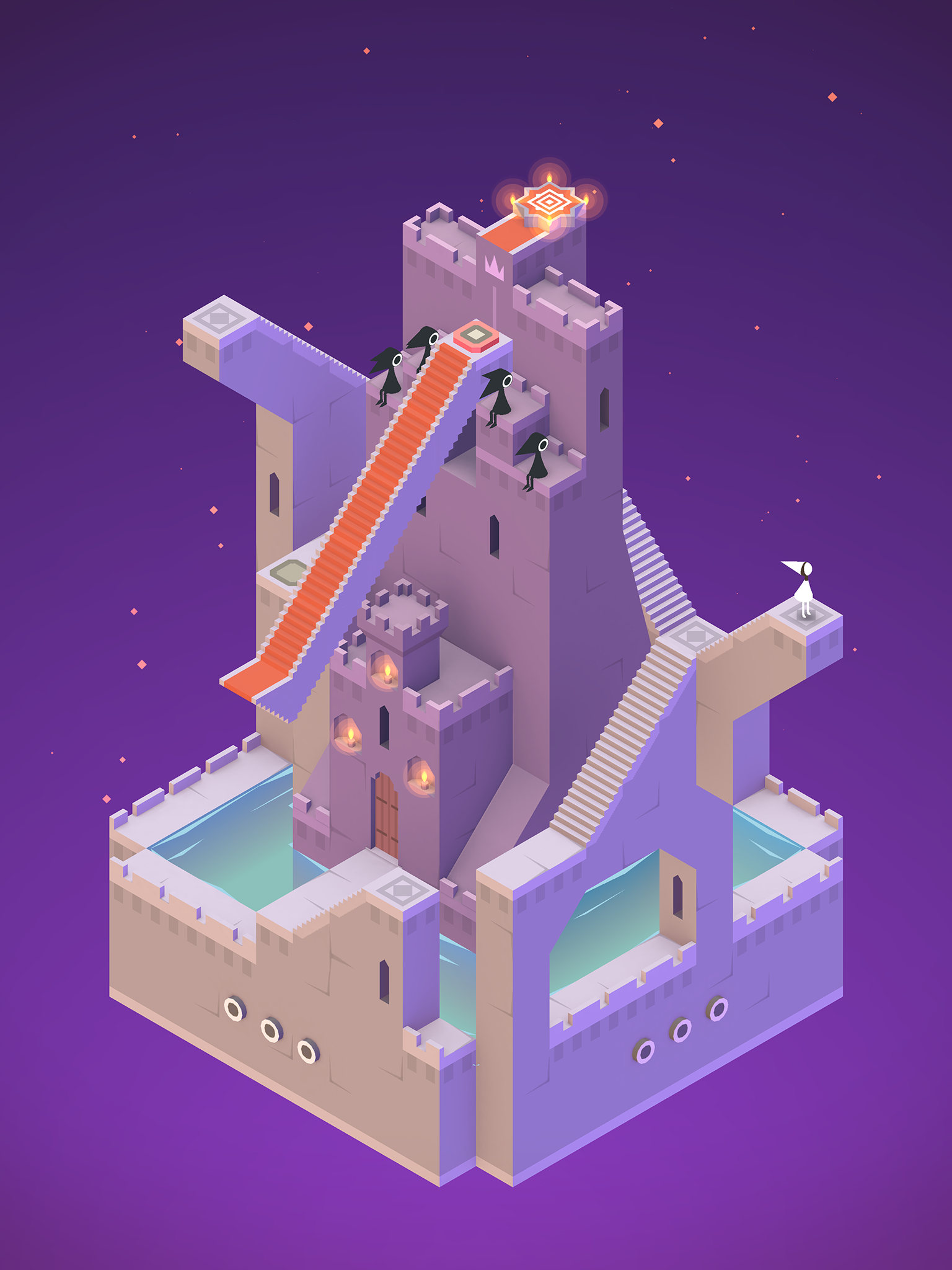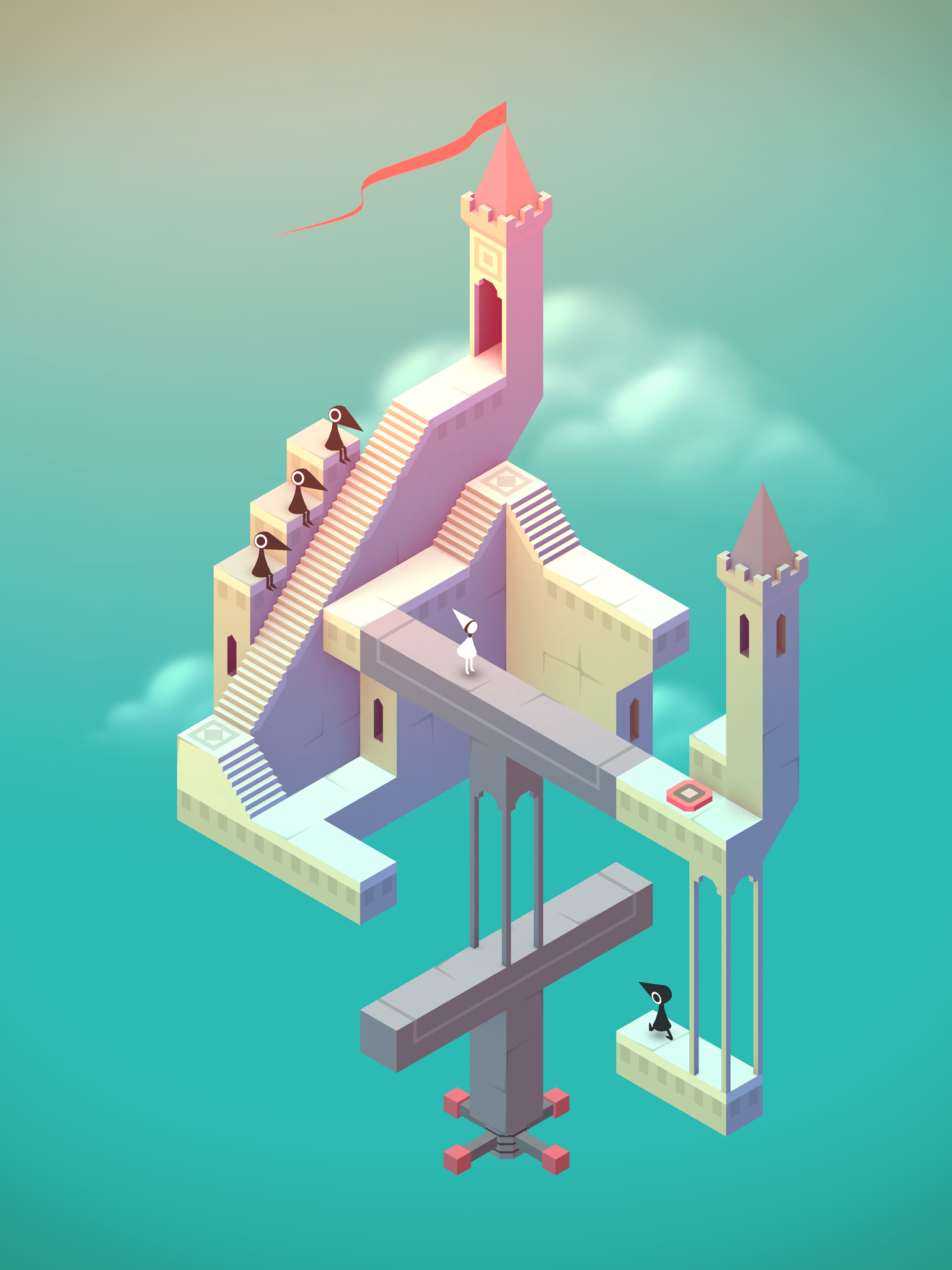 The game's navigation is elegant; we could even say it's invisible. The manipulation of elements is simple and straightforward. The way we control Ida and the monuments requires minimal physical effort from the user with their device. A simple tap is enough to tell Ida where to move. With regard to moving and changing the monuments, the user must find the zones that are allowed to move, and with a simple tap and drag, the shape of the monuments will change.
The characters' development leaves a lot to the imagination of the individual user who is interacting with the game. Princess Ida is not alone on this journey. Sometimes she will encounter the Crow people, the friendly Totem, and the ghostly advisor. It is impossible for the user not to notice Ida's similarities with the Crow people and figure out their story.
The design of the characters is beautiful. The composition and simplicity of Princess Ida evoke a concept of delicacy. On the other hand, despite having almost the same complexion as Ida, the Crow people, by color palette and behavior, conjure an idea of strangeness.
If I could mention one defect of the game, it would be that it doesn't last long enough. As a user, I am left wanting to know more and play more, but I suppose that Ustwo Games thought of that immediately, and that is why they brought us Forgotten Shores and Chapter 2 of the story—and coming soon, I hope, Chapter 3.
Conclusion
If you are looking for an original game with beautiful characters and a story that will let your imagination fly, Monument Valley is the right game for you.
I am looking forward to what Monument Valley and Ustwo Games have for us next!