Apple continues to innovate with industry-leading devices that provide hardware and software designed to provide magical experiences and improve people's lives. Learn more about iPhone, Apple Watch, AirPods, and more. Apple products are designed to work together and provide a seamless experience thanks to the strong integration between these devices.
The following paragraphs describe some of the updates on Apple products collected from the September 7, 2022, Apple Event.
Apple Watch has been an industry leader, ranking as a top smartwatch seller for over seven years. It is an essential companion that helps keep users connected, safe, active, and healthy. iWatch provides highly secure privacy features with total data control, end-to-end encryption, two-factor authentication, and a passcode to synch with iCloud that only users can access. In addition, the Apple Watch allows you to make phone calls, receive notifications and messages, and much more from your wrist.
The new Apple Watch Series 8 is the most advanced smartwatch, with sensors and technology, a bright screen with Always-On display with narrow borders (edge-to-edge) and detailed watch faces. The Series 8 is durable, swim-proof, and crack- and dust-resistant.
The Apple Watch is designed to keep the user connected to people and things with many new features such as:
• Connectivity
• Exercise – Workout, fitness
• Safety – Medical ID, emergency SOS, fall detection, auto crash detection
• Rest – Sleep stages tracking (REM sleep), mindfulness
• Health – Body temperature, heart rate, menstrual cycle tracking, ECG
It has advanced sensors that enable electrocardiogram (ECG) monitoring and tracking of heart rhythms and blood oxygen levels. In addition, it has a temperature sensor that gathers body temperature and analyzes changes as an indicator to provide body insights to track the user's health, ovulation cycles, and other patterns that show certain health issues.
The Apple Watch has motion sensors for a crash detection feature that can detect when your car crashes, notify emergency services and contacts, and provide the location. A 3-axis gyroscope and high g-force accelerometer measure the angular rate and acceleration forces (g-forces), respectively. These signals work by triggering a sensor fusion ML algorithm (trained model) for accurate crash detection.
The watch can detect your stroke type when swimming and your stride length when running, call emergency services if you fall, and detect impact noise (microphone) and shifts in pressure (barometer).
Battery life is one of the challenges of smartwatches. Apple developed a "Low Battery Life" feature that can extend the battery up to 36 hours, keeping core features and disabling other less important features. This is available from Series 4 devices and up-and-running watchOS9.
International roaming will be supported by cellular Apple Watch Series 8 models, allowing the user to connect the watch to the cellular network with more than 30 carriers worldwide. This will be available by the end of the year for watches of Series 5 and above that run on watchOS09.
Apple Watch Series 8 starts at $399 (GPS) and $499 (GPS + Cellular) with a free 3-month subscription to Fitness+.
Apple Watch SE (2nd Generation)
The Apple Watch SE is a more affordable version of Apple watches that delivers core features of watchOS 9, such as workout and activity tracking, heart rate monitoring, swim-proof, emergency SOS, fall detection, crash detection, atrial fibrillation (AFib history), sleep stages, and multisport workouts (triathlon).
It's a great starter option and a great option for Family Setup to pair your children's watches with your iPhone and share their locations, allow them to make phone calls, call emergency services, etc. Also, the Home App and home keys in Wallet will be available soon for the SE.
Apple Watch SE starts at $249 (GPS) and $299 (GPS + Cellular).
The Apple Ultra is a new version of Apple watches created for environments of explorers, adventurers, and endurance sports with extraordinary new capabilities.
The Apple Watch Ultra is the best sports watch on the market. A rugged version is available with an aerospace-grade titanium 49mm case and sapphire crystal for durability and resistance. The Apple Ultra comes with a new customizable action button that gives users control of various options such as marking segments or transitioning in a triathlon.
It also has a second speaker, three (3) microphones, built-in cellular, a siren (86 decibel), a bright display (2000 nits), and a large battery that can run for 36 hours on a single charge and up to 60 hours in an optimized setting (multi-day use). The Ultra watch will have enough battery to complete a full-distance triathlon race and work under extreme temperatures, including below zero or above 130 degrees Fahrenheit.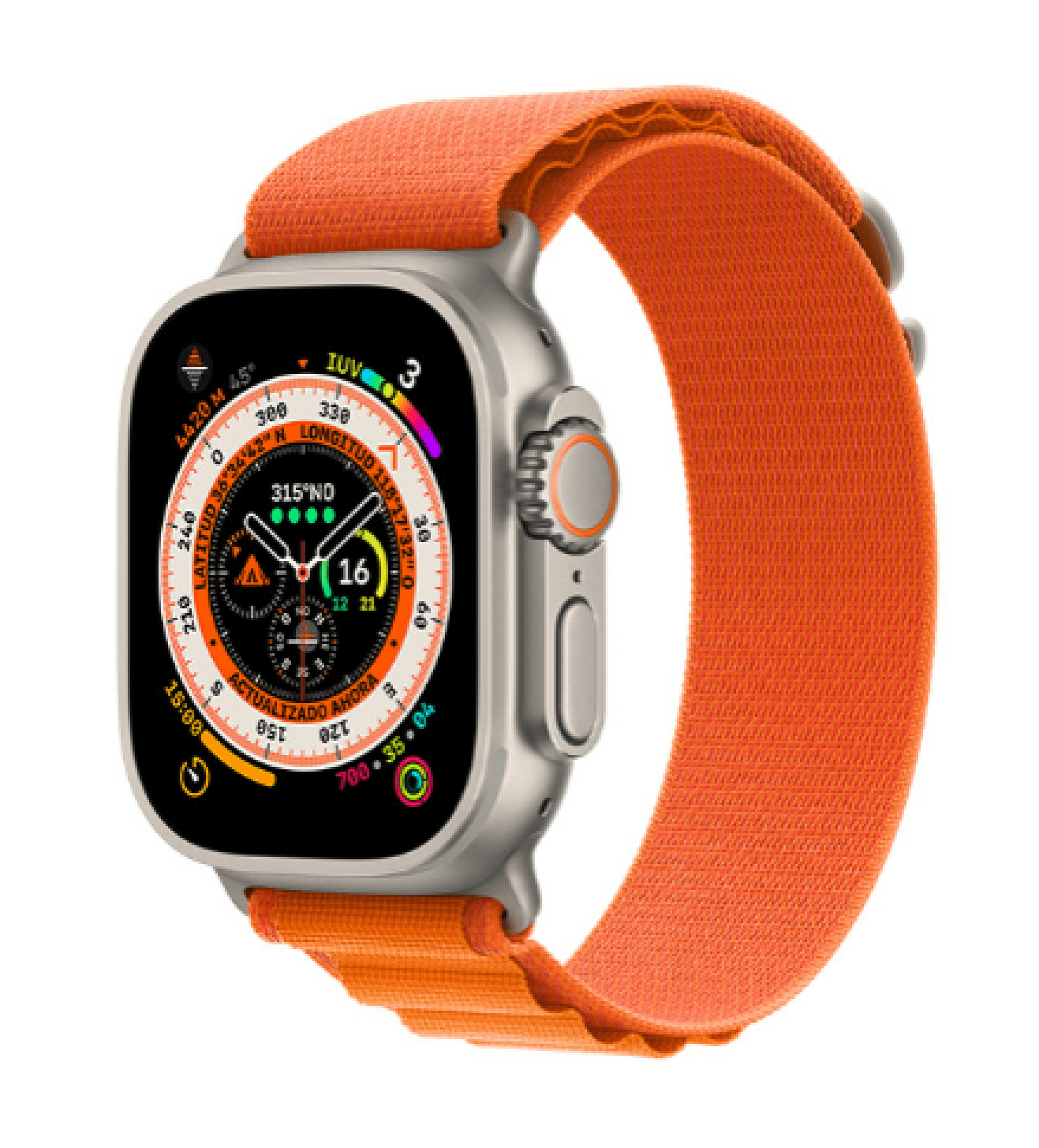 Special bands are available for specific environments. For example, the Alpine band securely fastens and integrates layers without stitching for explorers. Another band was developed for water sports (Ocean); it is built with an elastomer and titanium buckles and has a tubular geometry that stretches to fit. Also, for endurance sports, the Trail loop band has increased elasticity and is very thin and lightweight.
The Apple Watch Ultra has many features, including accurate GPS readings using a dual frequency GPS solution (L1+L5 GPS) and custom positioning algorithms. Other relevant features are heart rate zones, vertical oscillation, running features, redesigned compass, mark positions in the forest (waypoint marking), trace a route, depth gauge, water temperature, and many other workout customizations.
The Ultra is EN 13319 standard certified to use for recreational SCUBA diving. When the watch is submerged in the water, it launches the Depth app to show depth, water temperature, and underwater time. Apple and Huish Outdoors have developed the Oceanic+ app that turns the Ultra watch into a dive computer to use in depths up to 40 meters (130ft). The Oceanic+ app has all the features and works with the iPhone app to plan dives.
The Oceanic+ app runs a decompression algorithm that calculates and monitors dive parameters, decompression limits, ascent rate, tides, currents, and color-coded safety guidance. All dive info syncs with your phone and iCloud to track your activities.
Apple Watch Ultra will cost $799 (GPS+Cellular).
AIRPODS PRO (2ND GENERATION)
The AirPods Pro is powered by the H2 Chip that brings advanced computational audio and high bandwidth connectivity. The new AirPods Pro has many features:
Personalized Spatial Audio
Using the TrueDepth iPhone camera can create a personal profile based on our head and ears size to produce a personalized, immersive audio experience.
Active Noise Cancellation
The active noise cancellation feature reduces unwanted noises. Thanks to the H2 advanced computational audio capabilities and the optimized acoustic design of vents and microphones in AirPods, the noise cancellation is much more effective than on previous AirPods. The in-ear fit is also enhanced, providing extra noise reduction. Adaptive Transparency is also an environmental noise reduction that works by reacting and canceling high decibel noises.
Force sensors allow the user to control media and answer phone calls by touching the lower part of the AirPod. Touch control has a sensing layer to control volume from the AirPod. New battery life runs up to six hours from a single charge and up to 30 hours with the charging case.
The new case can be found nearby using U1 technologies and precision finding (for interacting with accessories in close proximity). It has a speaker that can play a sound to find it and can be charged with the cable, the watch charger, MagSafe chargers, and Qi-compatible chargers.
The new AirPods 2nd generation will be available for $249.
iPhone 14 & iPhone 14 Plus
iPhone 14 (6.1″ display size) and iPhone 14 Plus (6.7″ display size) both have an aerospace-grade aluminum case, Super Retina XDR display with Ceramic Shield, Oled technology, supporting 1200 nits peak of HDR10 brightness, Dolby Vision, and a 2.000.000 to 1 contrast ratio. They are water- and dust-resistant and have an all-day battery life and improved thermal performance that allows longer use.
iPhone 14 is a high-performing device that uses the A15 bionic chip with a 5-core GPU to accelerate graphic rendering, power efficiency, security, and privacy. The iPhone 14 Plus has a fast 6-core CPU with a Neural Engine and image signal processor for machine learning capabilities.
The state-of-the art camera system comes with an ultra-wide 12MP camera with advanced lenses, larger sensor, and pixels of 1.9 microns, 1.5 aperture (for motion freezing), and sensor-shift OIS stabilization that allows many innovative features and improvements for taking photos in low light, vibrant colors, and faster night mode exposure, for incredible photos and videos.
iPhone 14 has a front camera with TrueDepth capabilities, Autofocus, a faster 1.9 aperture, and larger sensors that improve capturing low light environments. The camera software is advanced in computational photography (Photonic Engine) with Deep Fusion and Neural Engine capabilities that combine many image frames into a single image.
Video capturing offers an advanced stabilization mode and better use of sensors for overscan, roll correction, and support of Dolby Vision HDR.
The 5G connectivity capabilities enable real-time connectivity, better streaming, and faster downloads. The iPhone 14 can use eSIM (digital SIM card) to store multiple eSIMs on a device, making devices more secure if lost or stolen. US models will come without the sim tray (eliminating the physical SIM card).
iPhone 14 has new safety features such as Crash Detection, thanks to its highly dynamic gyroscope sensor and dual-core accelerometer with a detection force of up to 256 g. Emergency notification services are also a safety feature of the iPhone and the Apple Watch via satellite or cellular network.
Custom components and software were developed for communicating uniquely with frequencies via satellite using the app that shows where to point the device to reach the satellite and a messaging system to speed the message delivery. Connectivity functionality with satellites also allows you to programmatically send your location to contacts so your family members are updated.
iPhone 14 will start at $799 and iPhone 14 Plus at $899.
iPhone 14 Pro & iPhone 14 Pro Max
iPhone 14 Pro (6.1" display size) and iPhone Pro Max (6.7″ display size) have a brighter Super Retina XDR display with up to 1600 nits of HDR brightness and up to 2000 nits for outdoor situations.
The iPhone 14 Pro is powered by the A16 Bionic Chip and a 6-core CPU that is generations ahead, constructed with surgical-grade stainless steel and a ceramic shield, and is water-resistant. The A16 is the fastest chip ever (40% faster than other competitors' chips), built on a 4-nanometer process that allows it to give more efficiency, display, and camera capabilities to iPhones.
The A16 Chip performance cores are faster and use 20% less power than the A15 chip. Its efficiency cores use 30% less power than the best competitor, with all-day battery life. Its neural engine can handle 17 trillion operations p/second. Its 5-core GPU has 50% more bandwidth for graphic-intensive applications.
iPhone 14 Pro has a 48 MP camera with a quad pixel sensor featuring a 2nd generation sensor-shift OIS for stabilization, 100% focus pixels, 1.78 aperture, and 24mm focal length. It provides a state-of-the-art camera system that uses CPU, GPU, ISP, and Neural Engine.
A new display engine is used to enable the Always-On capability and 1Hz refresh rate, animations, and higher peak brightness. The image signal processor supports computational photo technology for a robust and powerful camera system.
The Photonic Engine improves capturing photos in all lighting conditions to upgrade image quality, with sensors that optimize details using the three fixed lenses. Another feature is the 2x Telephoto option with larger pixels and a faster aperture (1.78) using the middle 12 megapixels of the sensor for a full resolution photo and 4k video.
The new sensor also optimizes image details using Apple ProRAW for shooting images at 48MP resolution in RAW format, capturing image details such as tone mapping, range, sharpening, depth, and other details.
The camera system's new sensor has a pixel pattern that uses a machine learning model to enhance the level of details and zooming and to reduce noise.
iPhone 14 Pro has an ultra-wide 12MP camera with more focus pixels for improving low-light conditions by three times (3x). It also includes a TrueDepth front camera with all its components and autofocus to perform computational photography.
The iPhone 14 Pro has many improvements in interface design and functionalities. The interface space for surface alerts, notifications, and background activity has been designed in a delightful but highly adaptive way to improve user dynamics. This Space or Dynamic Island is the place that conveys information and alerts, giving you access to controls without taking you out of your current tasks in another app.
The iPhone 14 Pro is highly responsive. The Dynamic Island has animations and flows with the user adapting information in real time. Also, live activities can be shown on the lock screen and provide a seamless interface. The lock screen provides unique personalization, showing time, live activities, and widgets.
The Always-On display provides essential information always available without needing to touch the device, and it consumes minimum power. The locked screen display is dimmed intelligently and power efficient (low power mode) thanks to LTPO technology.
Users can create cinema-grade video shooting quality in ProRes—compression technology for video format using RAW image data from the sensor. Videos are created in a format suitable for Dolby Vision high-dynamic-range (HDR) and high-performance editing.
The action mode allows the user to stabilize the video shoot while in movement. The cinematic mode supports video 4k resolution and up to 30 frames per second.
iPhone Pro 14 will start at $999 and iPhone 14 Pro Max at $1099.