Fitness training is full of opportunities catering to various segments—at home, boutique studios, large gyms, private trainers, professional athletes, etc. Moreover, it is divided into many disciplines, such as Pilates, yoga, high intensity, strength, cycling, weights, and so forth.
Many consumers searching for value-added services have shifted from large gyms to boutique fitness studios looking for personalized services and a better user experience.
Other user groups training at home are a significant and untapped market to be explored—a group living busy lives and lacking time but also needing personalized services.
Successful brands can create workout experiences and connections with users to provide results and build lasting relationships. Combining fitness with technology to tailor fitness programs and measure results is the best way to enhance fitness services.
Mobile Fitness App Capabilities
A
mobile fitness app
can make a difference in the quality of fitness services for end users of in-person and online training.
Creating a fitness app is not only for connecting with users, marketing services and offers, providing instructional videos, booking appointments, or shopping gear. It also helps to grow the level of services by giving users interactive capabilities through the app, such as the following:
1. Live or on-demand coaching sessions — video and messaging capabilities.
2. Connected TV (CTV) capabilities — stream video sessions to Smart TVs.
3. A live board to interact with other users — streaming group fitness classes and connecting with groups and other members.
4. Content and tailored workout plans.
5. Fit assessment tests — for an accurate understanding of user fitness levels.
6. Connect and sync — works with devices, equipment, and platforms. Obtain data (performance metrics) from third-party apps and activity trackers (distance, pace, heart rate, etc.).
7. Gather data and perform analysis — performance metrics, weekly snapshots, peak performances, workout comparisons, and weekly reports.
8. AR/VR — immersive environments for indoor rowers, elliptical, running, cycling, boxing, etc. (AR Fitness app). Watch a Holofit VR Fitness commercial, offered at U.S. gyms and Quest 2.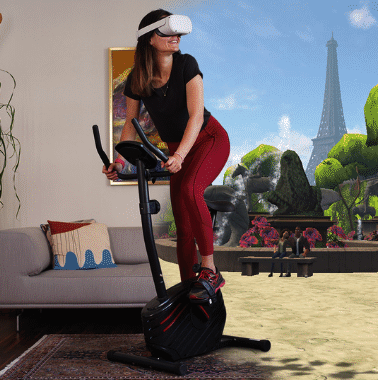 Image: https://www.holodia.com/
9. AI-powered/Machine Learning technology—AI-powered coaching to enhance the user experience. For example, a progress tracking algorithm with real-time feedback, such as alerts to correct posture.
10. Connectivity via Wi-Fi/Bluetooth—connect with hardware/equipment and sensors, such as sensor motion capture systems that analyze body postures.
11. Integrate with fitness communities—networks of athletes, clubs, Strava app, Facebook groups, etc.
12. Cross-Platform—iOS, Android, and Web versions.
Fitness app developers can add functionality in future stages by adding modules for new fitness-related services such as nutrition, well-being, and mindfulness. In addition, fitness apps evolve and provide services to support users in receiving evaluations, guidance, and motivation.
Build a Fitness App with Coaching Features
Fitness app development teams consider functionality for coaches to monitor users. A personal trainer's job requires a high level of personalization and a web dashboard tool with charts for viewing and analyzing insights to adapt plans accordingly. Some charts liked by coaches are tools to picture the athlete's fitness, form, and fatigue level. These are developed according to the sport type, but for illustration purposes, these are standard dashboard charts for coaches in the multisport TrainingPeaks app.
Fitness summary charts—visualizes training time and compares with the previous season
Performance charts—measures intensity, frequency, duration, etc.
History charts—views progress over time, including durations, distances, etc.
Peak power and pace—compares date ranges, outliers, etc.
Time in Zone charts—set to measure heart rate, pace, or power
Completed distance vs. planned
Add a combination of other metrics—include other measurements such as sleep hours (and quality of sleep), fatigue level, weight, etc

.
Other tasks that work to integrate with a web app dashboard for coaches are related to optimizing the workflow and managing time-consuming activities such as customer profiles, workout plans, analyzing data, emails, chats, spreadsheets, etc.
Develop a Fitness App for At-Home Training
As shown by segmentation variables, at-home training is a strong category and is considered by brick-and-mortar's marketing plans. However, consumer habits are changing, and some prefer to avoid visiting physical facilities. Therefore, fitness centers/gyms can create fitness apps to fit strategic plans, targeting these segments to create loyalty and switch them to on-site.
The success of fitness apps depends on innovative functionalities and integration capabilities with other apps and partnerships. Application segments are health monitoring and activity monitoring and tracking.
Consumers complain about using too many apps to keep track of various activities; therefore, developing fitness apps that synchronize with marketplace apps and provide analytics to keep all information in one place is a good strategy. By integrating with other apps and freely exchanging information, the new app can focus on its core activities, manage data from multiple sources, and push its brand.
When planning to build a mobile app, fitness app developers must evaluate the technologies in the ecosystem, company systems, and APIs. For example, Google Fit and Apple Health platforms have high customer adoption rates and can link with electronic health records (EHR) and other platforms.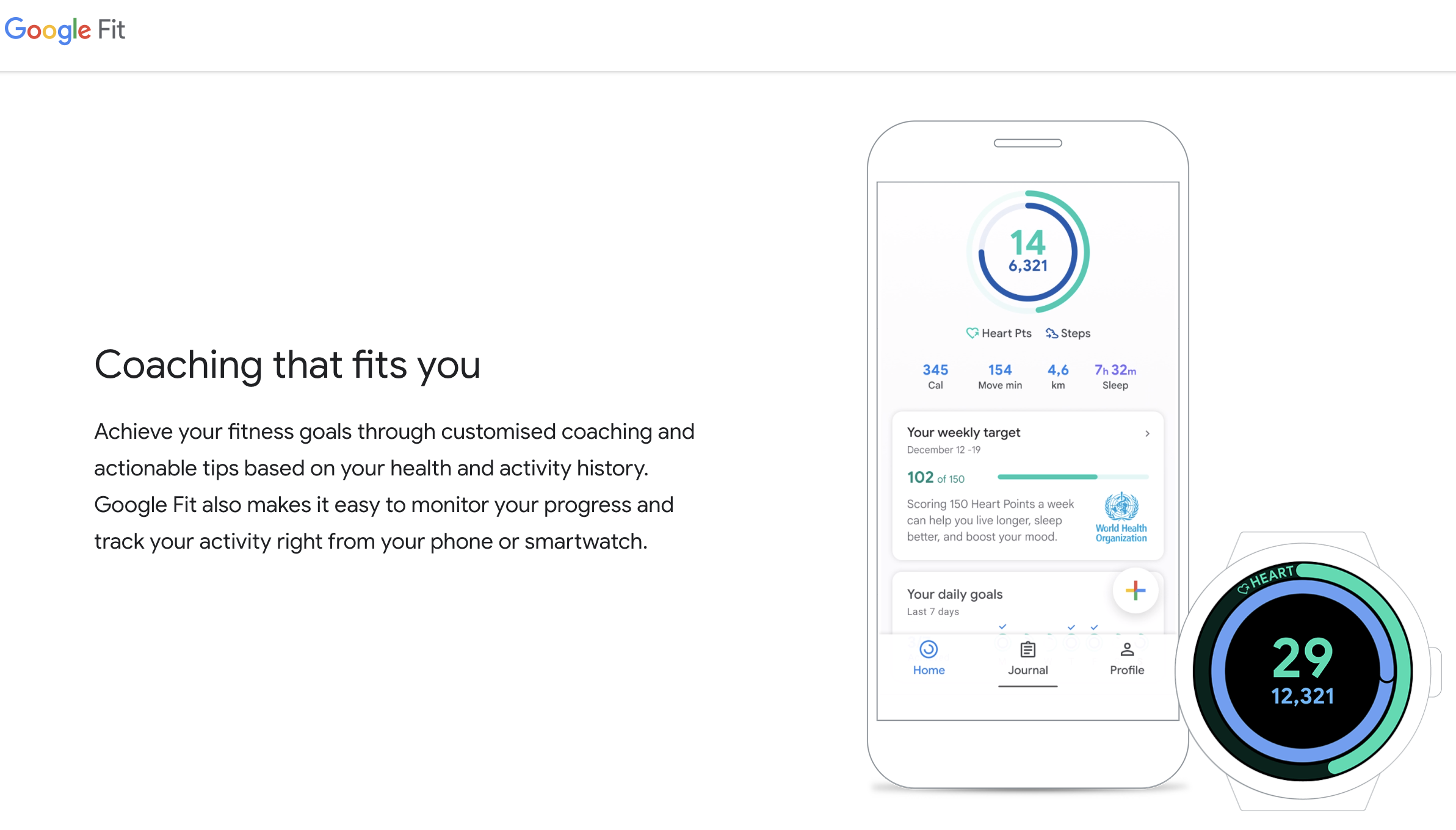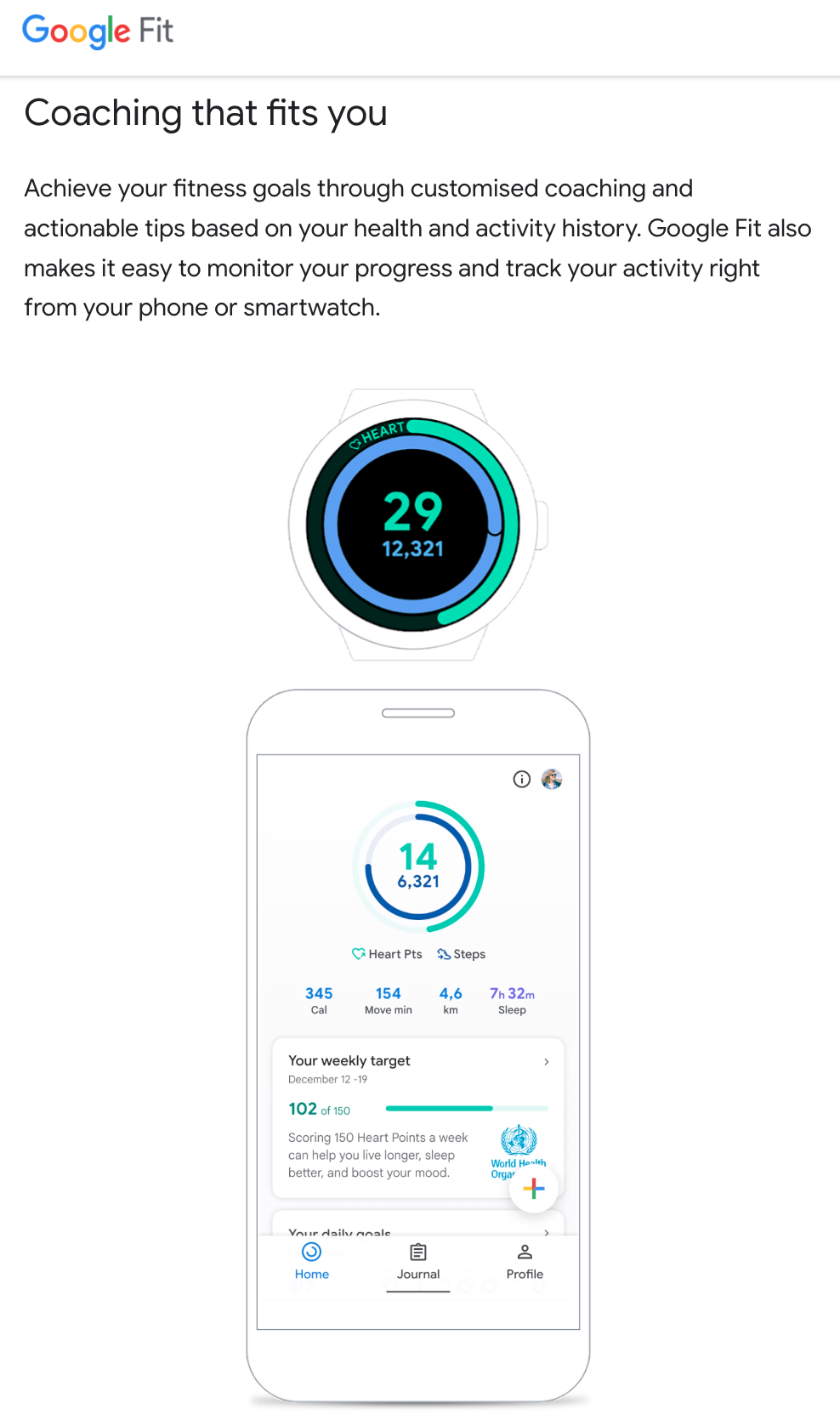 Google Fit is an open platform and app that works with Android, iOS, and Wear OS to manage users' fitness tracking activities from different devices and apps that connect through sensors, recording, history, sessions, goals, and Bluetooth low energy APIs. Your fitness app can use the Google Fit APIs to connect with other apps with a single integration. In addition, third-party apps can use the Google Fit platform without installing the Google Fit App.
The Apple Health app gathers and combines information from iPhone, Apple Watch, compatible devices, and apps. Healthkit is a developer framework and API used for integrating third-party apps. It is a central data repository for apps to access and share data, maintaining user privacy and control.
Fitness apps can create long-term lifestyle changes, and should attempt to provide high user engagement, coaching advice, user intention, socializing elements, live sessions, crafted routines, feedback recommendations, performance reviews, data analysis, app connectivity, and other personalized features.
Mobile applications that manage to analyze data and provide results have lower attrition rates and increased effectiveness. Apps must create awareness among users about the usefulness and perception of their functionalities necessary to reach the individual's goals.
AR/VR fitness apps are a new category that is limited due to equipment costs and lack of offerings. Therefore, we recommend companies develop AR fitness apps and learn and improve their products before they become mainstream.