Table of Content
Many IoT solutions for buildings and homes are fragmented and lack cross-platform interoperability and/or an intuitive user experience (UX). As the IoT evolves, the adoption of connected solutions is dependent on solving connectivity, security, and interoperability challenges.
Matter is an initiative to promote a universal and open standard to enable seamless connectivity and interaction of IoT devices. Matter is creating this standard with tools and platforms.
The strength of Matter relies on the power of hundreds of member companies acting as a community that provides knowledge, capital, and technical expertise to contribute to the development of a new IoT standard.
The release of the Matter 1.0 standard and certification program by the Connectivity Standards Alliance last October marked the beginning of a new era of IoT interoperability.
wHAT IS MATTER SMART HOME?
Matter Smart Home is an application layer and data model that works in certified ecosystems to deliver interoperability between devices and allow communication with other Matter devices, regardless of the ecosystem or network protocol.
Matter Smart Home Standard is an IP-based layer that can run over several network protocols, such as Wi-Fi, Thread, and Bluetooth, for device commissioning/setup.
A group of companies organized the Connectivity Standard Alliance (CSA) put together this open-source technology to make these technologies more accessible and increase adoption rates by enabling consumers to build a smart home without frustrations.
The Matter standard allows customers to add their favorite devices and control the smart home with their preferred smart home system. Matter devices are usually set up through the manufacturer app or a smart home system that offers users specific features and works with any Matter-compliant controller (hub), app, or ecosystem.
Matter products will allow multi-admin features that add additional administrators to connect with bridges, hubs, or other devices to control Matter devices from other systems. The Matter standard makes linking smart home devices to any platform or app fast and easy, without changing software or hardware.
Silicon vendors are also developing Matter offerings for IoT developers and device makers. Several companies are building chips—Matter System on a Chip (SoC)—including Silicon Labs, Nordic Semiconductors, Realtek, Espressif, and NXP.
Matter is founded on a resilient architecture and comprehensive layered approach that runs on top of other communication layers without relying on their security. Matter devices implement a defined application layer that runs on a hardware platform (MCU or SoC) on top of a software stack and communicates with other layers through APIs. Learn more about Matter's architecture here.

Matter network technologies
Matter's first specification release supports IPv6-based networks to achieve interoperability. Matter devices communicate with IP-based transmission protocols running one of the following technologies (network layer):
Wi-Fi/WLAN
Ethernet/LAN
Thread
Bluetooth Low Energy (for commissioning/device setup)
Matter controllers can be built into any device, hub, app, or panel to administer and control devices. Controllers typically connect to a local network via Wi-Fi and have cloud connections. Bluetooth Low Energy is used as an onboarding (commissioning) of Matter devices to the network. Also, Thread devices can connect using border routers. Border routers can also be built into other devices, apps, etc.
Devices in the network interact using the same Matter application protocol in a local network and can still connect to the cloud for other services, such as support, analytics, etc.
The Matter standard offers the flexibility to add devices that exist in homes or new products that use other technologies, connecting them through other protocols created by bridges and controllers. These would be non-native devices, but they can still interact with the Matter ecosystem.
Open-source reference implementations of Matter specifications benefit developers as they offer a code built on market-proven technologies (such as Zigbee) that are tested against many use cases and updated by the work group community.
Developing matter devices
Matter development has many benefits. Matter is an IP-based local protocol connectivity standard that provides better reliability and latency than cloud-to-cloud. It reduces development costs as developers build devices that work in any certified ecosystem and are easy to set up and integrate with other cloud services.
Matter devices must have a minimum of memory and processing requirements, support Wi-Fi or Thread technologies, have the capacity to run a Matter software library, and include radio compatibility.
Matter devices implement an application layer that runs on a hardware platform (MCU or SoC) on top of a software stack, communicating with other layers through APIs.
Matter initially targets the standard for common smart home products before supporting commercial devices. The main categories for Matter development are lighting and electrical, window treatments (blinds/shades), HVAC controls, TVs, access controls, safety and security, and access points and bridges. Other device types are also in the process of becoming certified.
BUILDING MATTER DEVICES THAT WORK WITH ALEXA
There currently exists an incredible momentum of opportunities for Smart home device makers to develop Matter devices that connect with Alexa's enabled products. Amazon recently announced Matter-related updates during Alexa Live 2022, such as the API for credentials that will ease the setup of Matter devices as well as the cloud-based API for Multi-Admin that allows connecting Matter admins to Matter devices through the Alexa Ambient Home Dev Kit.
In addition, the Alexa Connect Kit (ACK) SDK for Matter is a new package that offers cloud connectivity to Matter devices, including over-the-air updates, metrics, and logs. The ACK SDK for Matter also provides cloud connectivity features that can give customers superior interoperability of Matter devices.
The ACK SDK will provide a Frustration-Free Setup (FFS)—an effortless setup for Matter devices—allowing consumers to add Matter-compliant devices to the network automatically through Alexa.
Echo devices enable control of Matter devices through voice activation. The Matter SDK will update existing Echos and allow commissioning and controlling Matter devices. Echo's 4th generation will work as a Thread border router and continue as a Zigbee hub.
Alexas's endpoint capabilities enable Echos as a Matter device administrator (path), add local connectivity using Matter, and reach local voice interactions in low latency situations (or even without an internet connection).
MATTER DEVELOPMENT FOR GOOGLE HOME
Google has a suite of tools ready to develop Matter devices that work with Google Home and are compatible with other ecosystems. Google is also promoting the Matter ecosystem as the best option to bring new IoT products to market.
Clients are building and testing devices and apps to make them compatible with Matter.
Google customers can control and manage Matter devices from the mobile Google Home app on Android, Google Assistant (voice control), or Google Nest Hub (border router).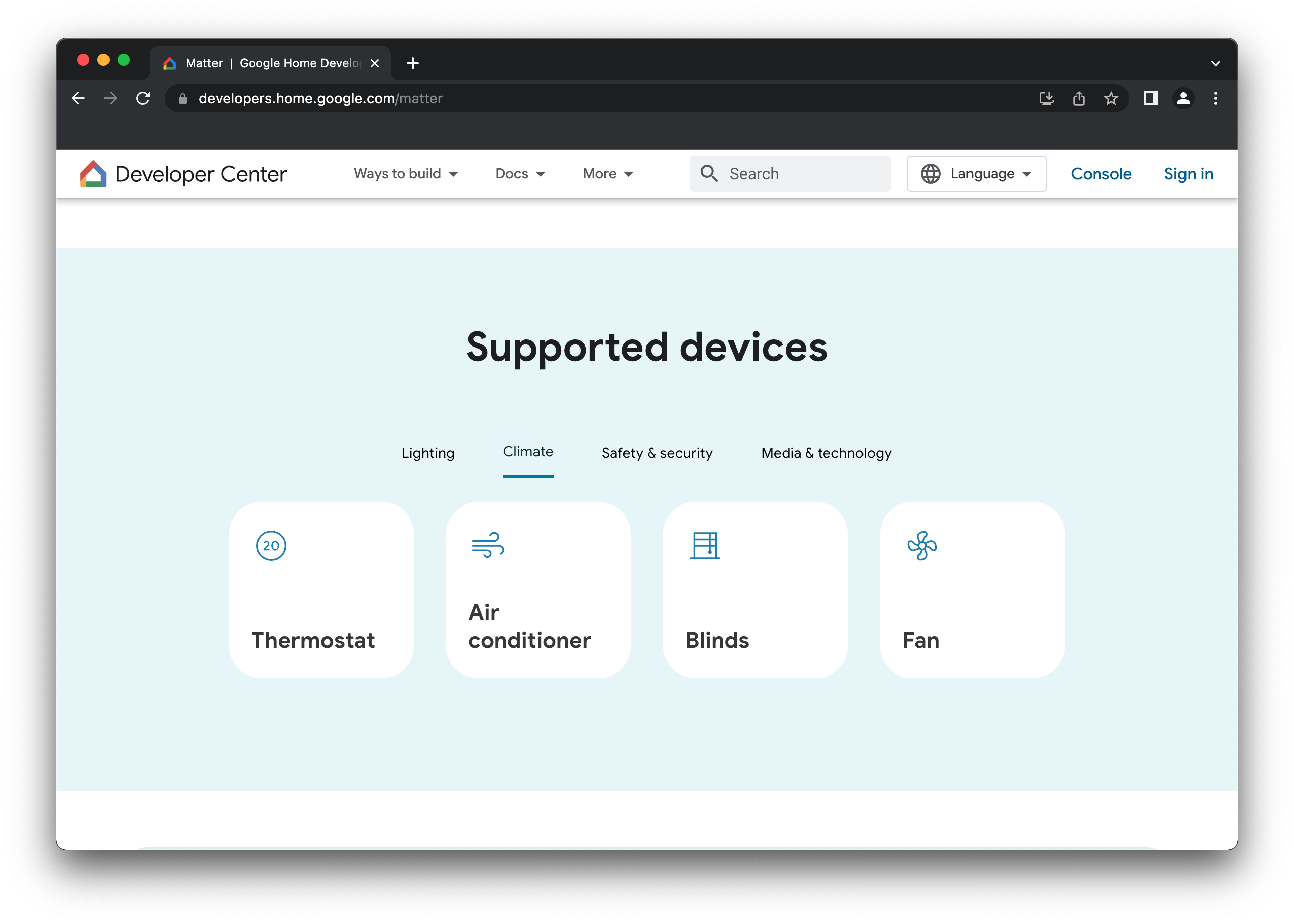 Developers can request access to Google's Matter Private Beta Program to start working with Google Play Services Matter APIs and set up Matter devices in Google Home. Learn more about developing for Matter with Google here.
Security and Privacy Tenets for Matter Devices
The risk of cyberattacks is one of the main worries for consumers when deciding on smart home solutions. It is important to mention that Matter has been created with high standards of security and privacy. Matter development is performed with the flexibility and capabilities to support many security features (security by design) and address potential future attacks. Devices must be provisioned securely with an identity (manufacturer ID) and firmware, secure encryption and authentication of communications, and a secure process that supports software/firmware updates (over-the-air).
Matter security is implemented in a layered approach that authenticates and provides an attestation mechanism for commissioning. Matter security implementation is self-contained and applies strong cryptographic standards, digital signatures, key exchanges, random number generators, and other mechanisms built into its definitions. Matter devices require AES 128-bit encryption security between devices and the cloud.
These mechanisms also establish sessions and implement the Distributed Compliance Ledger (DCL) technology for device commissioning (onboarding), attestation, and operations.
Matter Development with Blockchain Technologies
Matter is implementing a private blockchain-based ledger for Matter devices for validation of authenticity, certification, information, and security features that would allow monitoring of all devices in the network automatically—an ecosystem of trusted devices.
Having Matter devices working in a blockchain ledger (Distributed Compliance Ledger) allows users to verify the device software update history, receive alert about threats, and quarantine devices if necessary. This technology also allows authenticating and tracking devices at scale.
The Matter protocol specification has reference implementations available on a GitHub repository with a defined implementation as well as alternative integrations of security functionality.
Matter Device Certification Program
Developing Matter products requires compliance with the Connectivity Standard Alliance (CSA) specifications. Once the product is certified, it is listed on the official site and can use the Matter logo to show consumers that it has been tested for interoperability in a Matter program.
Matter-certified devices or Certified End Product are tested for conformance with the standard, and compliant platforms are tested to a set of specifications before they are engineered into an end product. More than 4000 certified products and platforms are listed on Matter's official site.
Matter Development Services
• Matter development—firmware applications, dedicated application layer
• App development—user experience (UX) design of Android Matter apps and iOS apps
• Architecture design—evaluate and select Matter hardware platforms
• Analyze use cases to select and implement functional security aspects—firmware attestation, authentication
• IoT open-source development agnostic mindset
• Compliance with Matter specifications and certification process
• Maintainability of Matter devices with the evolution of Matter revisions
• Adherence to Matter principles