Nearshore Development of Mobile Apps
Developing mobile applications in Mexico is a win-win proposition for US companies looking for nearshoring development opportunities. Migrating mobile development operations to Mexico is a trend in the tech industry that represents many economic benefits and productivity gains.
Why Nearshoring your mobile
app development to Mexico?
All things considered, Mexico is the most desirable option for nearshoring development. There are similarities when comparing nearshore vs. offshore options, but overall, nearshoring benefits development through better agility, flexibility, affinity, and other relevant aspects.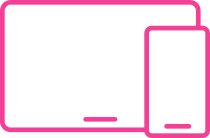 Mobile app development requires designated teams.
Front-end app development is the client-side application (mobile app) that requires a designated team of developers and designers to build the components that reside on the device and connect with the backend (server-side). Designated teams work together cohesively in nearshoring and have similarities in culture and language that promote collaboration (while teams in offshore locations are usually contractors, who may lack commitment). In addition, nearshoring benefits such as building accountability, trust, and a sense of belonging are difficult to match when choosing other locations.

Geographical proximity and cultural affinity with the USA.
It's not only the time zone that's important. Being located within close proximity to the client's office is desirable, as your teams can fly to Mexico for a face-to-face meeting and return the same day. Developers can also visit your facilities for training, conferences, and other activities that will help integrate the team.

Teams working in the same time zone.
Mobile apps are intensive in iterations and require continuous communication and collaboration between marketing, design teams, and development teams that can only be effective by working in the same time zone. Teams in the USA and Mexico can sustain their workloads by having the same schedules and working cycles, therefore improving the development cycle by avoiding delays in interaction.

Capabilities and resource optimization.
Nearshore development provides access to highly skilled talent and lower rates.  Nearshoring to Mexico gives clients the opportunity to access a large group of candidates to develop stable teams with lower turnover and costs to speed up your development lifecycle.
Nearshoring Agile Development
Nearshore development works best for Agile teams that are flexible and responsive to changes, traits that maximize the benefits of proximity to gain integration and stability to help customers reach their long-term goals. At Krasamo, we follow Lean-Agile methodologies throughout the development cycle.
The following nearshore development benefits are difficult to match by offshore locations:
Faster adaptation to changes speeds the development process.
Cultural similarities help to streamline processes.
Feedback loop optimization promotes passing information early and often.
Team incentives for learning and refinement are easily implemented.
Cohesive team members are committed and focus on delivering high value.
Collaboration is promoted by self-organized teams.
Adequate new requirements are established through faster iterations.
Better human interaction is maintained, requiring less documentation.
Nearshore teams tend to avoid developer burn-out.
Nearshoring results in lower attrition rates.
Nearshore Mobile App Development
Nearshore product development follows a process to build apps by partnering with customers and collaborating from the beginning—from use case analysis all the way to development. Krasamo teams participate in creating user-centric strategies, establishing objectives, defining  product vision, and aligning the teams' technical capabilities to create a project plan.
The mobile app design and development process works with Lean-Agile methodologies, DevOps, and DevSecOps practices in the nearshore software center.
In an initial session, our team gathers system requirements and product goals. Our UX designers begin by conducting user experience (UX) research and validating assumptions about the user needs. UX research methods mix quantitative and qualitative techniques according to the product requirements.
Once the product strategies are aligned, we create an implementation roadmap to support the client's capabilities and develop a framework that aligns the in-house teams with nearshoring teams.
Aligning goals and visions with stakeholders, product owners, leaders, developers, and designers is vital for running a successful agile development process. UX/UI designers play a key role in the process as they focus on customer needs—which may change during the process.
Therefore, many techniques are used to understand users' real needs in order to continuously refine the design to improve the product. All methods and techniques are discussed to develop a product that exceeds expectations.
Following the agile development process, product workflows ensure the product functionality is achieved. Nearshoring agile development teams plan to reach objectives within a context and ensure the product increments and iterations take place.
Experienced teams in the nearshore software center work in increments and cohesively collaborate with on-site teams in order to develop the new system's architecture and build the front-end and back-end code using the latest technologies, frameworks, and programming languages.
Code is frequently checked at integration points with the teams in Mexico and routines are created to ensure the system meets the quality levels expected by the client. In addition, regular testing is conducted, and performance is continuously validated from end-to-end.
At Krasamo, we like to deliver early and often with the team's cadence synchronized to deliver/release on time for a high-quality outcome. Teams are aligned during the development cycle to conduct retrospectives, problem-solving workshops, and other events that support the agile process.
A well-integrated team working in the same time zone can build a high-quality system and deliver on time. Also, designing a continuous delivery pipeline can help deploy and release on demand, with a feedback process in place, the ability to make changes in small increments, and a learning culture that motivates and promotes excellence.
Krasamo is a Nearshore Software Development company based in the US with operations in Aguascalientes, Mexico.
The Nearshoring Delivery Model
A nearshore software development company can enhance the home-based team or create new teams according to the project specifications. A new team can be comprised of existing developers who onboard new team members with the required expertise. A nearshore company provides the hiring, managing, and supervision of teams.
A nearshore company provides on-site and hybrid working models with dedicated facilities that support cost management, organizational efficiencies, and many other functions.
Nearshoring software development services can offer a variety of engagement options, such as scope-based (fixed costs, time, and materials), staff augmentation, or dedicated teams.
The ideal nearshore company is headquartered in the US, with offices in Mexico that are staffed with teams who have experience with Mexican laws and their business environment.
The Digital Trade chapter in the United States—Mexico—Canada Agreement (USMCA) is key to the success of nearshore development as it provides the framework for the business model—as well as the confidence for growth and opportunities—while also avoiding cost barriers such as payment of customs duties for digital products.
The digital trade chapters in the USMCA provide for high standards in handling Intellectual Property (IP), with robust disciplines like no other international agreement designed to protect trade secrets signed by the US government.
As part of this modernized trade agreement, Mexico promotes protective laws, which is helping the country develop a powerful software development cluster, even attracting companies from India that are setting up nearshore software centers in Mexico.